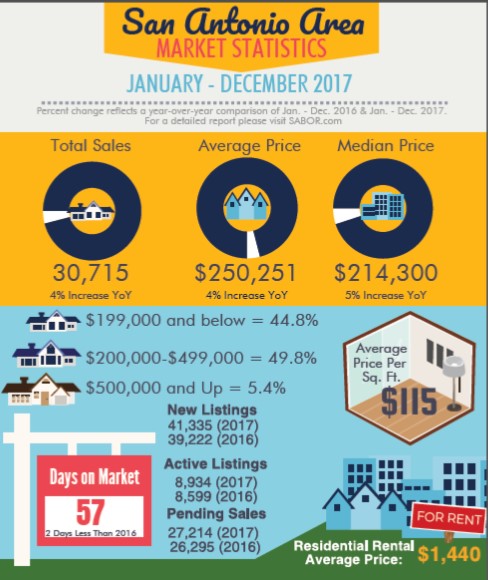 San Antonio area home sales rocketed past previous years' records in 2017, reporting the largest number of home sales yet according to the San Antonio Board of REALTORS® Report on Year-End Housing Market Data. A total of 30,715 single-family homes were sold in 2017, which was four percent more than in 2016. The average sales price of a home in the area was $250,251 while the median sales price was $214,300, a four and five percent increase respectively.
While it's true that inventory has remained tight all year – below four months actually – buyers still were not deterred from jumping into the market and were attracted by the area's variety of price points and property types. With so much interest in buying and selling property here, it is no surprise the year ended with such record-breaking numbers.
In fact, every month except two in 2017 outpaced 2016's total sales figures, with the most significant year-over-year increase occurring in May with an 11 percent jump. Meanwhile, the market continued to favor sellers with the lowest inventory reported in December at just 3.1 months. At its lowest, days on market fell to just 48 days in August while on the high end both February and December reported 63 days on market.
Homes priced under $200,000 accounted for 44.8 percent of the sales in 2017 while homes priced between $200,000 and $500,000 made up 49.8 percent of the year's market. Homes priced over $500,000 accounted for 5.4 percent of the year's sales, 0.5 percent more than in 2016.
Despite increased demand, San Antonio's housing market continues to be among the most affordable of the large metros in the state. We are very fortunate to live in a city with a strong economy and booming job market that help keep our housing market stable.
| | | | |
| --- | --- | --- | --- |
| San Antonio Home Sales Recap | Jan.- Dec. 2015 | Jan. – Dec. 2016 | Jan. – Dec. 2017 |
| Total Sales | 27,256 (9% increase) | 29,596 (8% increase) | 30,715 (4% increase) |
| Average Price | $231,847 (6% increase) | $239,536 (3% increase) | $250,251 (4% increase) |
| Median Price | $192,800 (7% increase) | $204,300 (6% increase) | $214,300 (5% increase) |
*Percentage increases are based on a year-over-year comparison.
If you are looking to buy or sell a home in the San Antonio area, and want to work with a trusted San Antonio REALTOR® throughout the process, contact Trudy Edwards of KELLER WILLIAMS Realty Heritage, at (210) 595-9801, or by email at TrueSARealEstate@gmail.com.