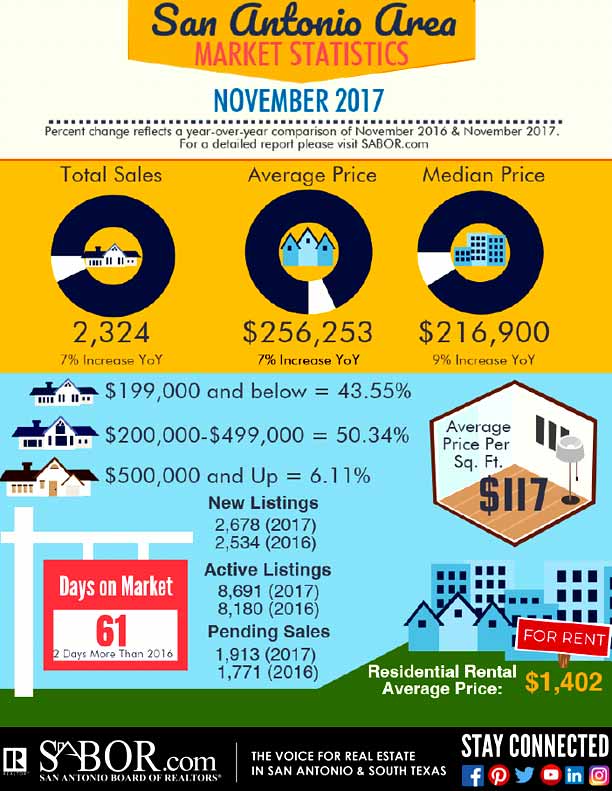 San Antonio area home sales continued briskly this fall, with San Antonio area home buyers undeterred by cooler temperatures. The San Antonio Board of REALTORS® (SABOR) which reports on all areas contained within the MLS, reported that there were a total of 2,324 homes sold during November 2017, a seven percent increase in sales volume compared to 2016. The average San Antonio area sales price also rose seven percent to $256,253 and the median sales price climbed nine percent to $216,900.
Since January, more than 28,000 homes have sold in the area, a four percent year-over-year increase, while the average and median prices have also grown when compared to last year.
Half the homes sold in November were priced between $200,000 and $500,000 while homes priced under $200,000 made up almost 44 percent of the market's sales. Homes priced over $500,000 accounted for six percent of the month's market. Since January, only the months of May and November have reported more than six percent of sales in this high-end bracket.
In other parts of Texas, sales in Travis County in November decreased 1.3 percent year-over-year with a median price of $341,000. Sales in Dallas County rose 3.1 percent with a median sales price of $230,000 and sales in Harris County increased seven percent with a median price of $215,000. For comparison, sales in Bexar County rose 5.8 percent with a median sales price of $204,900.
Throughout the state of Texas, a total of 24,021 homes were sold, with the median price increasing 3.7 percent to $223,000. The statewide average sales price inched up three percent to $273,958 while days on market remained low at just 61 days.
SABOR Multiple Listing Service Report:
| | | | |
| --- | --- | --- | --- |
| SA Home Sales Recap | Nov-15 | Nov-16 | Nov-17 |
| Total Month Sales | 1,721 (2% increase) | 2,168 (23% increase) | 2,324 (7% increase) |
| Average Price | $217,456 (3% decrease) | $238,516 (10% increase) | $256,253 (7% increase) |
| Median Price | $183,400 (1% decrease) | $199,900 (9% increase) | $216,900 (9% increase) |
*Percentage increases are based on a year-over-year comparison
San Antonio has so much to offer home buyers, in terms of neighborhoods, price ranges and types of properties. Whether you are looking for a condo near downtown, a house in the suburbs, a fixer upper investment property, a new construction home or a luxury home, San Antonio has something for everyone.
If you are thinking of buying or selling a home in the San Antonio metropolitan area, and want to work with a trusted San Antonio REALTOR® throughout the process, contact Trudy Edwards of KELLER WILLIAMS Realty Heritage, at (210) 595-9801, or by email at TrueSARealEstate@gmail.com.